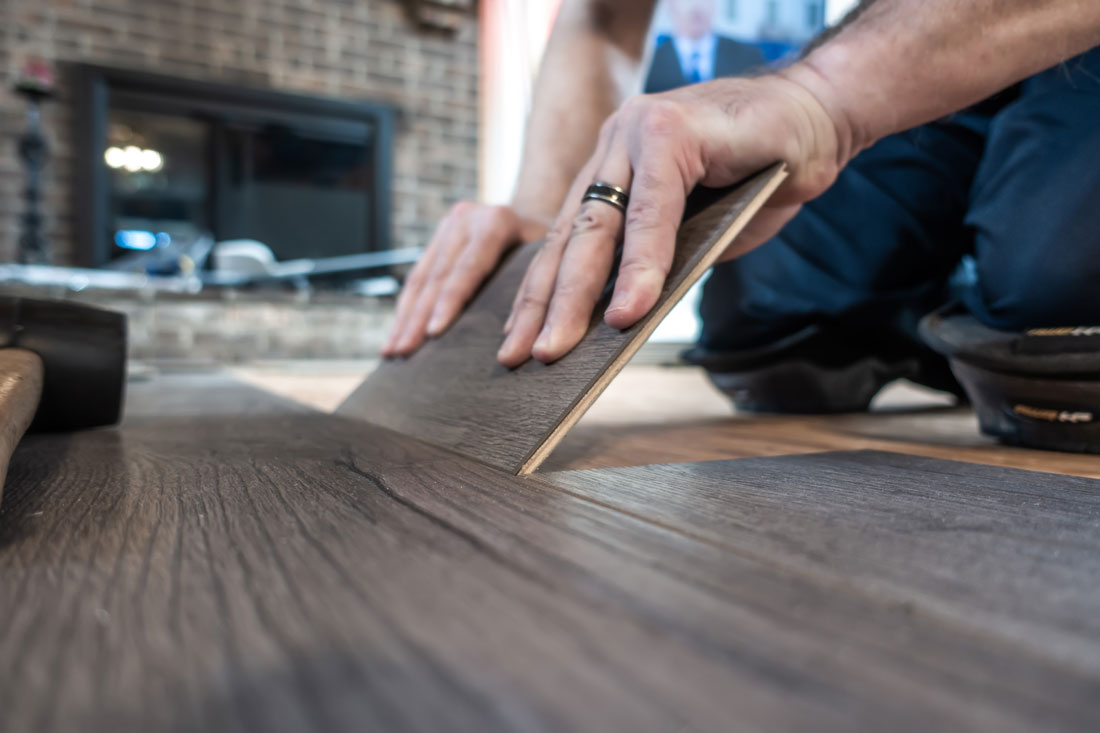 Another flooring option is laminate, which comes in several patterns.
Laminate flooring is composed of several layers. These include a backer core, the decorative design layer, and the top wear-layer. On the market for about 12-15 years, laminate flooring is quickly growing in popularity.
Unlike hardwood, marble, or carpet, laminate flooring does not fade in the sunlight and is resistant to stains, impacts, and scratches. This is due to the incredibly durable melamine plastic wear layer used for the top surface of laminate floors.
Laminate has many advantages such as it is easy for the homeowner to install themselves, can be more visually appealing than sheet vinyl and possibly more affordable than most of the hardwoods on the market. Laminate can be easily maintained and resists scratches, dents, and stains.
Things to consider when buying laminate is that laminate cannot be refinished, therefore once the finish is worn, the product must be replaced.
Laminate is not recommended in areas of moisture and is susceptible to warping or staining from standing water. Laminate can be louder than the alternative of carpet or vinyl.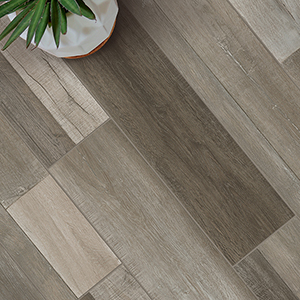 There are five grades of laminate based on the construction of the material, especially the thickness of the wear layer. The rating system is known as the Abrasion Class Rating or AC Rating. The rating of each product you view should be listed or the packaging or in the website description:

Moderate Residential
Light traffic areas in the home, for example, bedrooms.

General Residential
Light and medium traffic areas, for example, living room, home office, dining room.

Heavy Residential / Light Commercial
All traffic areas in the home and light-traffic commercial areas.
General Commercial
All residential areas and moderate commercial traffic.

Heavy Commercial
All residential areas and high-traffic commercial floors.
When choosing a type of hardwood floor, there is usually one place to start. That is with either choosing Solid Hardwood or Engineered Hardwood.
Solid hardwood is 3/4″ thick and varies in width from 1 1/2″ planks up to 5″ wide planks. Each plank is made with one piece of wood versus multiple layers which makes it a natural product that is eco-friendly. Solid hardwood usually comes in a tongue and grove design that is installed on or above grade only, meaning it is not to be installed on concrete or gypcrete substrates. Solid hardwood is generally known to be very durable and is less expensive than Engineered Hardwood.
Engineered Hardwood is designed to have multiple layers of wood (positioned as cross members) held together by glue. Due to the glue this product is not considered eco-friendly, even though the glue is non-toxic, and because of the design it is generally more expensive. Just like Solid hardwood, Engineered Hardwood is manufactured in a tongue and groove format, however Engineered floors can be installed above or below grade which makes it more versatile than Solid floors.
The structural integrity of Engineered Hardwood can be more forgiving than the Solid Hardwood regarding expansion and contraction of the wood when dealing with humidity levels.
It is important to note that both types of hardwood are living products that require a constant humidity level between 45% – 55% to maintain their optimum integrity.
Once any wood has been exposed to levels above or below suggested values for any length of time the wood could become damaged and irreparable.
For people trying to decide which one is better, they would have to take into consideration location of product, price, living style and overall personal preference. As with many things, there is no right answer, just what will work best in each person's situation.
Pre-Finished Wood Flooring
Wood flooring is available in several grades, widths, and thicknesses.
Common hardwoods include birch, maple, beech, and oak, and sometimes softwoods such as pine, fir, and hemlock. Wood flooring comes in different forms — strip, plank, parquet, and laminates. Most new hardwood flooring today is pre-finished and has UV-cured polyurethane layers which protects the finish.
Advantages & Considerations of Pre-Finished Wood Flooring
Advantages
Wood is a natural insulator
It is easily cleaned and maintained
With proper care can be long lasting<
Can be purchased unfinished or pre-finished
Can increase a home's value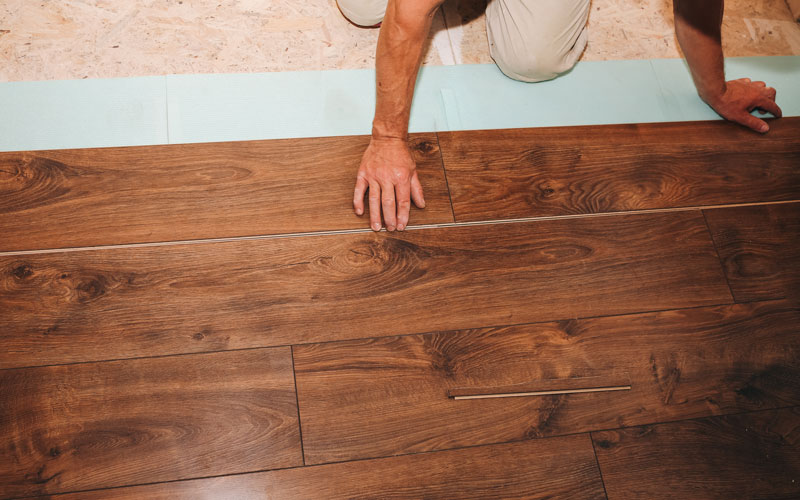 Considerations
Polyurethane finish can chip or scratch
Wood flooring is susceptible to damage from water, heavy traffic or from dropping heavy objects
Sunlight can cause discoloration
Can be purchased unfinished or pre-finished
High traffic areas can be protected with small rugs or mats
The installation costs can be slightly more expensive than some other types of flooring. Savings can be achieved in the long-term as the floor can be long lasting. Most hardwood floors can be refinished rather than replaced when worn.